was wonderful. craig came home, which is always fun! i miss my eggy. i'm sorry to say i didn't take any pictures - how unfortunate. guess this pic will do...of us in that nasty city that stole him from me:
*added:
i stole a new pic:
he's the best brother ever. so very pleasant and enjoyable to be around. he always makes me laugh and i just love being with him. plus we're both cheesemongers. mmmm, cheeeeese. [my myspace heading: Oh, if only cheese grew on trees, I'd have a forest full of them.] sooo, craigy - get this nyc phase out of you and be home with you!
we had such a fabulous weekend - my family is so wonderful. it's such a blessing to be surrounded by people i completely love and trust, knowing i am loved and accepted unconditionally. i love it when we're all together - one big, happy family! we had japanese curry [we miss you hiro!], played games, laughed until we cried [well, i did anyways], went for a walk in the woods, ate lots of chocolate, drank coffee, talked, and had an all around splendid time. it went by too quickly.
in other exciting news, we recently painted our house! welll, we're actually still in the process of painting trim and woodwork. i really don't even want to think about painting the trim way up by the roof. but it's mostly painted, and i love it!
before:
during:
and after: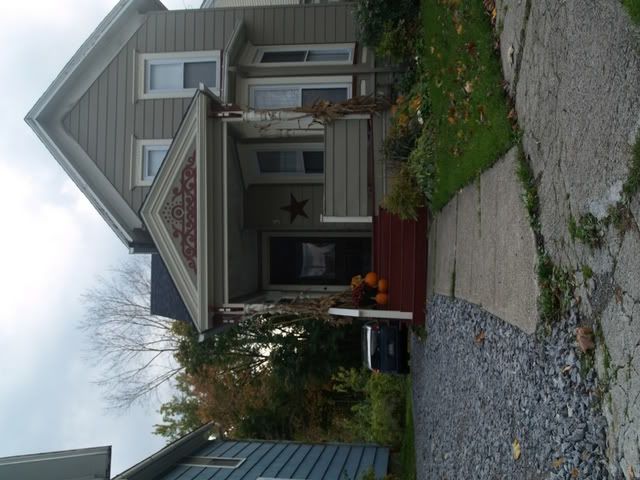 and i love fall! finally the cooler weather has set in....although that means my house is c-c-c-cold. [in an effort to conserve energy we do not turn the heater on until november.] i love, love, love the colors of the leaves. this is what i get to see each morning as i pull out of my driveway: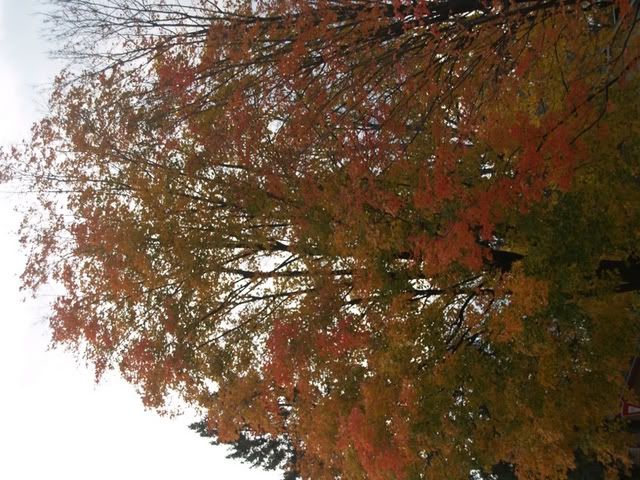 i know this picture does not do the color justice, so you will have to trust me...it is magnificent! the colors are so bright and fluorescent, waving their brilliance in the crisp fall breeze. it awes me each morning. in the words of laird hamilton [paraphrased], if you don't believe there's a God, you need to go sit under a tree and think a bit harder. [perhaps you could sit under this tree.]